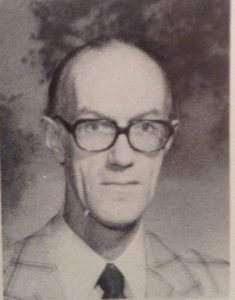 Bert Brady, Feb 6, 1927 – Oct 4, 2015
Gordon Bell Science
by Dennis Bayomi, GB'77
Mr. Brady, the "Gentle Giant", was to many of us the epitome of Gordon Bell Science teachers. Always accessible and only too willing to lend an ear, Mr. Brady was sleeves-rolled-up, lighting that lab bench Bunsen burner with the zest and enthusiasm he had lighting the spark of scientific inquiry in us all.
Under Mr. Brady's guidance, many of us solved an equilibrium equation or two and mixed liquids and powders demonstrating yet another wonder of chemistry. Rather than outright answer questions, he'd turn the tables, as do all good teachers, and with his characteristic nod ask "what do you think will happen …?"
Ever the naturalist and world traveler, Mr. Brady would often share the latest about the birds and other creatures he'd recently spotted or the far-away places he and his wife Idell had visited over their 55 years together. The story goes that Mr. Brady was born in Banning, California while his family was on vacation, setting in course his lifelong wanderlust!
Growing up in Reston, Manitoba, Mr. Brady left to attend the University of Manitoba, graduating with degrees in Science and Education. He joined Gordon Bell in 1960 and spent the next twenty years helping hundreds of us become better acquainted with science, no doubt the catalyst behind many of us heading for further training and careers in science.
Mr. and Mrs. Brady were longtime Wolseley residents, living within a few minutes of the school. Not surprisingly, Mr. Brady was quite the gardener. He loved to paint, especially of Manitoba plants and flowers, eventually donating his personal collection to the Museum of Man and Nature. He was also an avid art and stamp collector and big supporter of the Winnipeg Art Gallery.
Those of us who had Mr. Brady as a teacher and friend will always look up to him with great affection and respect.
Thank you Mr. Brady!