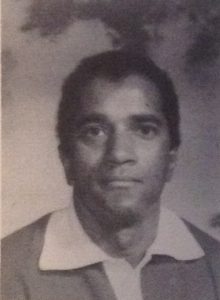 Mike Gaston, 1939(?) – May 5, 2005
Gordon Bell Social Studies & Phys. Ed.
by Dennis Bayomi, GB'77
Who during the 60s, 70s or 80s didn't have Mr. Gaston for Social Studies or Phys Ed? If there's one teacher who embodied the spirit of our school, it was Mr. Gaston. Hard working. Always encouraging. Serious but fun-loving. That was Mike Gaston.
Most of us know that Mr. Gaston had one of the longest teaching careers at GB, beginning in 1961 and retiring in the early 1990s. Many of us know that he left us far too young. But few know how Mr. Gaston came to Winnipeg, most hearing something about baseball, explaining why we'd often get Phys Ed and the odd Social Studies class or two out on the ball diamond.
Indeed without exaggeration, one could say Mike Gaston was a "Major League Teacher". The July 4, 1994 Free Press article with that title tells how he came to Winnipeg. Born in Oklahoma and raised in Alabama and Detroit, Mike was signed by the St. Louis Cardinals as a hot pitching prospect in early 1957 off the campus of Western Michigan University. That year he suffered a back injury while developing for the AAA affiliate in Omaha and was sent down in May 1958, as a "shy and reserved" 19-year old to recover and develop with the Northern League Winnipeg Goldeyes.
A couple of years later Mike would join the teaching staff at GB. Unfortunately he never regained his 97+ mph fastball, even playing summers in the Mexican League during his first five years at GB. Sadly his major league dreams were behind him.
Yet Mr. Gaston was an All-Star to most of his students. More than a few of us recall how he'd push us to the next level, whether it was a laser-beam football or basketball pass or a pointed question in history class. Many a former student have told how Mr. Gaston would encourage them, often giving her or him a second chance – perhaps as he too had been given a second chance.
Sigurdson, H. "He's a major league teacher", Winnipeg Free Press, July 4, 1994, pD4.
https://newspaperarchive.com/winnipeg-free-press-jul-04-1994-p-28/?tag=mike+gaston&rtserp=tags/?pf=mike&pl=gaston&pci=2/
Sinclair, G. "He wants to help others the way others helped him", Winnipeg Free Press, June 25, 2009.
http://www.winnipegfreepress.com/local/he-wants-to-help-others-the-way-others-helped-him-49080541.html
Sinclair, G. "Former students won't forget legendary Mr. G", Winnipeg Free Press, June 27, 2009.
http://www.winnipegfreepress.com/local/former-students-will-never-forget-legendary-mr-g-49334562.html