Peter Pura, July 10, 1932 – May 8, 2014
Gordon Bell Math & Computer Science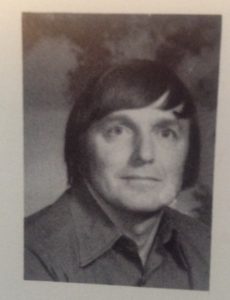 by Dennis Bayomi, GB'77
High school math teachers face the dual challenge of not only trying to teach young people at a time when they're most resistant to learning but also teaching a subject that many students fear and avoid at all costs. Mr. Pura was one of those rare teachers who knew how to make math "accessible" and relevant, realizing that each student was unique and had unique needs and perspectives.
For the math-timid, Mr. Pura had the patience of Job, sitting down with a student and going through the step-by-step derivation of a proof, or simplifying the complexity of an algebraic expansion. For the geeks in the class like myself, Mr. Pura was an incredible coach and mentor, encouraging us to go further and challenge us on the yet more difficult problem.
Mr. Pura was a "late bloomer" to teaching, telling us of his previous careers at Canada Post and CPR and becoming a teacher by completing his high school in the evenings and later enrolling full time at the University of Manitoba. He started at Gordon Bell in 1970 and enjoyed a 27 year career, being part of the embryonic days of Computer Science, as the field moved from mainframes to micros!
In 2015 in memory of Mr. Pura, GB alumni established the Peter Pura Memorial Prize in Math & Computer Science, awarded annually to a graduating GB student intending to further her/his studies in math, computer science or another area of science. For more information, visit https://gb100.ca/donations-to-gb/
Memories from Students:
Dennis Bayomi GB'77 — I'll never forget Mr. Pura taking a couple of us to the UM after classes for a walk-around of the campus, including a tour of the mainframe computer room up in the old Engineering building. And a stop on the way back at Pony Corral for dessert.  I'd made the decision in Grade 10 that Comp Sci was where I was heading but this tour just cemented it! I'm glad over the years I had a chance to return to GB and visit Mr. Pura on a few occasions, and thanking him for being my favorite teacher!
Danelle Merrick GB'76 — I graduated in 1976. In Jr High I always struggled with Math until I came to Gordon Bell in 1974. Mr Pura spoke the language of Math in a way that reached students and Math became one of my best subjects. Best Math teacher ever!
Michele Schick Boczkowski GB'81 — I remember him dearly! I came to GB in Grade 10 and he acknowledged my shyness and made me feel welcome … most of the teachers were so awesome, he stands out in my memories as an awesome mentor who cared about the students.

Tom Kwan GB'79 — Without a doubt,  Mr. Pura was pivotal to my own development and career path. He pushed the idea of entering a hobby project in a Science Fair which I did not know much about. He connected me with our school librarian who taught me how to put together a poster/presentation. With their coaching, I ended up doing well and winning a trip overseas. Meeting Canadians from other parts of Canada during this trip inspired a transfer to the University of Toronto which ultimately led to graduate school in the US and an engineering career in Silicon Valley.